This Rural PREP archive includes free educational materials on topics related to rural practice in the form of teaching kits. Our teaching kits were generated from Rural PREP Grand Rounds, 2016-2021. We thank all participating sites across the country for helping us create and test these materials.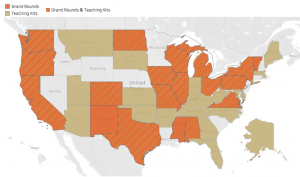 Our teaching kits contain all you need to facilitate your own active learning activities with your team or group of learners. They are designed as table-top activities and all you need to provide is the space, projector/video player, and the learners! Our Teaching Kits are designed to be modified, adapted, and personalized and can be easily adapted to run on your preferred web-conferencing platform. These activities are designed to last about an hour or so and follow a basic format, as outlined in a downloadable slide deck:
Pre-session Assignment and Activity (for example, a completed quiz or a guided reading worksheet)
Review of Pre-session Assignment and Activity
Brief Presentation (embedded YouTube video included)
In-session Activity
Discussion
Each teaching kit contains a facilitator guide. Watch our <Downloading and Using a Teaching Kit video (YouTube)>  to see step-by-step instructions on how to use a Teaching Kit. We encourage you to review, modify, and adapt our materials to meet the needs of your learners and modality.
Need ideas? Contact us
Available Kits: