Live Where You Work
Original Presentation Date: 4/25/2019
Facilitator Lesson Plan
The Live Where You Work teaching kit contains all you need to host your own team-based, active-learning event featuring work by Kate Abraham, MD, MPH, from Cahaba Family Medicine-Urban, Birmingham, Alabama.
Family medicine doctors provide the majority of care for underserved rural and urban patients. Their workplaces are distributed more proportionally throughout the US than any other specialty. What if we took a step beyond working in underserved areas, to living in them too? We will discuss geography's influence on poverty and access to health care. We will also discuss the benefits and challenges of both living and working in underserved areas. This teaching kit shares stories of practitioners who both live and work in underserved areas and offers ideas for practitioners considering living in the community where they are serving.
If you have questions about how to use or to adapt this teaching kit to your setting, contact us to schedule a phone call. We are happy to go over the details. This work is licensed under a Creative Commons Attribution-NonCommercial-ShareAlike 4.0 International License.
Learning Objectives
Participants will be able to:
Describe geography's influence on poverty.
Explore the demographic make-up of the areas in which they live and work.
Discuss the benefits and challenges of living in the community in which they work.
Presenter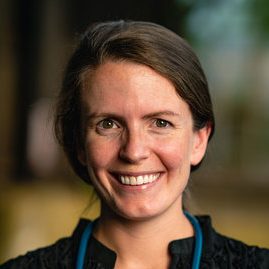 Kate Abraham, MD, MPH
Cahaba Family Medicine-Urban, Birmingham, Alabama
Recommended Steps
Before your session
Recruit your teams. Ideally, 4 teams of 3-5 participants.
Schedule a room that can accommodate all your participants and AV to play the presentation.
Review the Slide Deck. Be sure to look at the presenter notes.
During your session
Arrange your participants into teams within the room.
Facilitate your session by following the prompts in the presenter notes of the Slide Deck.
Facilitate general discussion with the full group. Go over any lingering thoughts.
Evaluate the materials on your experience.
Click to download the presentation slide deck
You will be asked to provide your name, email, and organization prior to accessing the download.
This product was supported by the Bureau of Health Workforce (BHW), Health Resources and Services Administration (HRSA), U.S. Department of Health and Human Services (HHS) under cooperative agreement #UH1HP29966. The information, conclusions and opinions expressed in this presentation are those of the authors and no endorsement by BHW, HRSA, or HHS is intended or should be inferred.